New York Times Offers In-App Subscriptions
The New York Times has
begun offering
digital subscriptions via Apple's
in-app subscription
feature. The subscription offering puts the Times app in compliance with Apple's
revised in-app subscription
guidelines. The Times rolled out its
digital subscription offerings
earlier this year, but they couldn't be purchased directly in an app until today.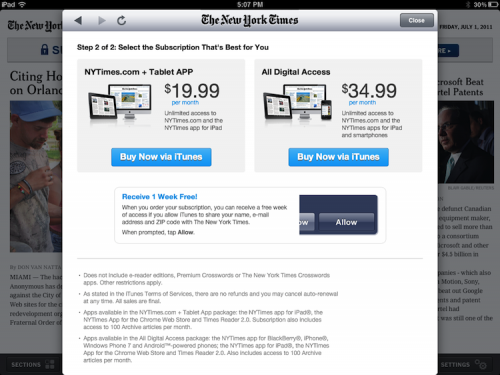 The Times is now the highest profile app to work with Apple's requirements surrounding subscriptions. Current NYT subscribers can login and access their content, and non-subscribers can quickly sign up using their iTunes accounts.
For new users signing up through the app, the Times is charging $14.99/month for NYTimes.com + iPhone App access, $19.99 for website + iPad, and $34.99/month for website + iPhone + iPad. Apple will receive a 30% cut of these subscriptions.
These prices are similar to those
offered via the Times website
, though NYTimes.com offers a $0.99 promotional price for the first month. In-App subscribers will receive a week-long subscription for free if they share their name, email address and ZIP code with the Times.
Though the deadline for compliance with the new In-App Subscription guidelines came and went yesterday, Apple is reportedly
helping developers
update their apps to work within the guidelines and allowing some additional time for them to come into compliance.