Apple Thunderbolt Cable and Promise Thunderbolt RAID Systems Hit the Apple Store
Earlier this week, we mentioned that the first Thunderbolt-equipped peripherals had briefly appeared on Apple's online store earlier this month, although they carried shipping estimate of several weeks out and were quickly removed.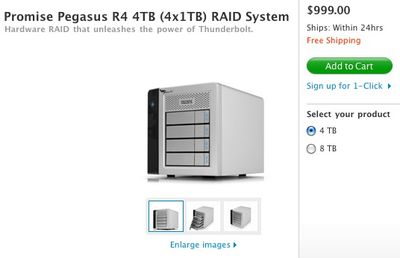 Those products have returned today, with a set of four Thunderbolt-equipped RAID storage systems from Promise making their debut in the store and shipping within 24 hours. The new Thunderbolt RAID systems include the Promise Pegasus R4 in 4x1TB ($999) and 4x2TB ($1499) capacities and the Promise Pegasus R6 in 6x1TB ($1499) and 6x2TB ($1999) capacities. The R4 offers bandwidth of over 500 MB/sec, while the R6 offers over 800 MB/sec.


In order to provide connections to the drives, Apple has also released a new $49 Thunderbolt cable.
Thunderbolt technology supports blazing-fast data transfer with two independent channels of 10Gbit/s each. Use the Apple Thunderbolt cable to connect your Thunderbolt-equipped peripherals to your new iMac or new MacBook Pro.

Apple Thunderbolt cable can also be used for Target Disk Mode between two Macs that support Thunderbolt, or to use a new iMac as a display for a MacBook Pro equipped with Thunderbolt.
The new Apple Thunderbolt Cable is sold separately from the Promise Thunderbolt RAID systems, and ships within 24 hours.