New iPod Touch Coming Later This Year as a Minor Update?
Earlier this month, new references to unreleased iPad models were discovered in iOS 5, but the lack of any mention of unreleased iPod touch models led to some concern that Apple might not be planning an update to the popular line this year.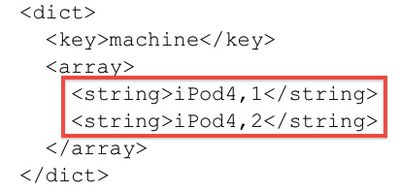 But a bit more digging by iFans has in fact turned up a reference to an unreleased iPod touch model designated as "iPod4,2". The current iPod touch is designated "iPod4,1".
Up until now, only mentions of "iPod4,1," the current iPod touch model, have been discovered in iOS 5 property lists. However, some snooping by iFans forum user shamrock has indeed yielded mention of an unreleased iPod touch model: "iPod4,2″ in the file /System/Library/LaunchDaemons /com.apple.fairplayd.N81.plist
What's more interesting is the use of the "iPod4,2" reference instead of "iPod5,1", suggesting that Apple considers the new model to only be a minor update to the existing iPod touch. Apple briefly used this naming convention once before in its iPod touch line when an "iPod2,2" reference showed up in iOS 3.0 betas in early 2009. No such product was ever released, however, as all of the third-generation iPod touch models released later that year carried the "iPod3,1" designation, which had also been found in the iOS 3.0 code. Consequently, it is possible that Apple could still have an "iPod5,1" in the works as the next update, but no signs of such of a device have yet been found in iOS 5.
To find an instance of Apple actually shipping an "X,2" product as a minor update, we can turn to the iPhone where Apple dubbed the iPhone 3G as "iPhone1,2", considering it a minor update update over the original iPhone despite a redesigned case and new 3G compatibility, among other changes. The iPhone 3GS released the following year interestingly warranted a major new "iPhone2,1" designation despite a nearly identical external appearance to the iPhone 3G, although the device's internals were significantly upgraded.
Update: TUAW notes that this iPod4,2 reference is also in iOS 4.3, not just iOS 5.
Update 2: TUAW has retracted its earlier claim of the iPod4,2 reference being present in iOS 4.3.3. The reference does in fact appear to be new in iOS 5.