Bungie's Marathon Officially Coming to iPad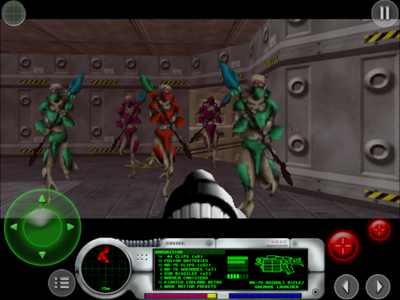 Early Beta screenshot
Bungie has
posted
on their official blog an interview with iOS developer Daniel Blezek who has been working on porting Marathon to the iPad. Blezek
has been working
on this project for some time but there were initially questions about the legal issue related to distributing Marathon's original level packs.
Based on notes from the interview, however, it seems that this is now a Bungie-sanctioned port.
For many, Marathon will invoke a wave of nostalgia; for others, this will be the first experience with the seminal Mac FPS. I hope all players appreciate Bungie's commitment to their fans. It's not every company who would support bringing a 16 year old game back to life!
Marathon is a first person shooter developed by Bungie Software for the Macintosh in 1994. It was a Mac exclusive launch and was released shortly after Doom first debuted for the PC. Bungie later went on to be acquired by Microsoft and released the popular Halo game series for the Xbox. Halo was originally developed for the Mac as well, but the release was delayed after Microsoft's acquisition.
The iPad version of the game has reportedly been submitted and will be released for free.