Successor to Steve Uncertainty Hurting AAPL Share Price?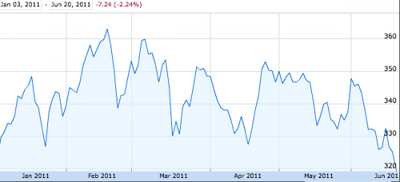 The main downward force on Apple's stock price is a lack of clarity around Steve Jobs' successor and questions about how long he will remain at his current post, according to a pair of articles today examining the performance of Apple's stock over the past few months. AAPL is down more than 2% year-to-date, and is down more than 8% since WWDC began.
Henry Blodget at Business Insider:
In a way, the situation Apple finds itself in is akin to an impending CEO retirement--without a successor having been named. In such "lame duck" periods, companies can become paralyzed, as managers focus more on their own future and political stature and uncertainty and less on the business.

And, in Apple's case, unfortunately, the situation is even worse: No one knows whether Steve will return, or when, or even when the question of his return will finally be put to rest. So the company is in a sort of perpetual purgatory.
Rougemont, a contributor at investor haven Seeking Alpha, agrees, noting "this concern is already discounted in the stock."
There may be another, less Steve-related explanation. Last week, there was some extraordinary downward movement on Thursday, on a day without significant bad news. Philip Elmer-Dewitt at Apple 2.0 took a look at weekly options set to expire on Friday as a possible explanation for the sudden plunge.

Among the dwindling numbers of retail Apple investors, there were the usual cries of market manipulation and calls for reform of the weekly options markets, which some believe have become the tail that wags the underlying stock.
Regardless of the reason behind the drop, some view the price dip as a buying opportunity.
Both Horace Dediu at Asymco and Andy Zaky at Bullish Cross believe this drop is a buying opportunity, with Zaky assigning a "buy" recommendation for any price between $300 and $320, with a $500 price target:
Because of the market's short-term blindness to this obvious reality, we find it prudent to put a strong-buy rating on the stock if it so happens to trade under $300 during a potential brutal summer correction.
Apple just closed at $315, down a point percent and a half on the day.