Intel Shipping New 1.7GHz-1.8GHz MacBook Air-Class Processors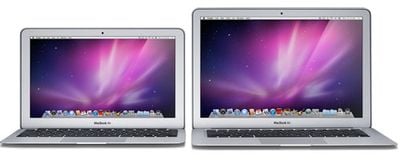 CNet reports
that Intel has added new MacBook Air-class processors to their price list yesterday.
The processors, which appeared Sunday on Intel's updated processor price list, are faster than current power-efficient Sandy Bridge chips used in skinny laptops such as the Samsung Series 9.

Apple is expected to use this type of Intel chip in its upcoming MacBook Air refresh. The Air, to date, has used older-generation Intel Core 2 Duo chips.
We previously covered the rumors about these new processors which could be used in Apple's upcoming MacBook Air. The specs for the new chips are listed here:
• Core i7-2677M: 2 cores, 1.8GHz (turbos to 2.9GHz), 4MB cache, 17 watts, $317
• Core i7-2637M: 2 cores, 1.7GHz (turbos to 2.8GHz), 4MB cache, 17 watts, $289
• Core i5-2557M: 2 cores, 1.7GHz (turbos to 2.7GHz), 3MB cache, 17 watts, $250
The new MacBook Air is rumored to launch in June or July, but Apple may be holding its release for OS X Lion to ship.