Lodsys Patent Invalidation Efforts: Apple Barred? $15,000 Bounty for Crowdsourced Research
Lodsys, the patent holding company currently taking on App Store developers over their use of in app purchasing and upgrade buttons, is under increasing attack as it continues to push forward with its own actions while its targets have begun to fight back. Last week, we noted that the first legal challenge had been brought seeking to invalidate Lodsys' patents, and three other companies, including the parent company of The New York Times, have since filed similar suits against Lodsys.
But while Apple has stepped forward and asked to intervene in Lodsys' case against the App Store developers, arguing that Apple's own license extends to developers using its tools, the company has not joined the effort to have the patents themselves invalidated. FOSS Patents now reports that Apple (and Google, whose developer ecosystem is also being targeted by Lodsys) may actually be barred from challenging the patents by virtue of their licensing agreements already in place with Lodsys.
None of the attorneys I talked to knows the language of the license agreement Apple and Google signed with Intellectual Ventures while the four patents later acquired by Lodsys belonged to that entity. But they and I concur that it's highly likely that Apple and Google are contractually precluded from challenging Lodsys's patents because such license agreements often come with clauses under which a licensee will lose a license once he participates in an effort to invalidate any of the related patents (in addition to possibly having to pay contractual penalties).

So even if Apple and Google had wanted to attack Lodsys's patents proactively, they would have lost their license -- at least to any patent they attack; more likely to all four Lodsys patents; and possibly even to any or all of the more than 30,000 patents they licensed from Intellectual Ventures, a patent aggregator in which those companies (alongside many other industry players) invested.
Consequently, Apple may be limited to simply defending App Store developers with respect to the terms of Apple's licensing, and not able to directly attack the patents themselves.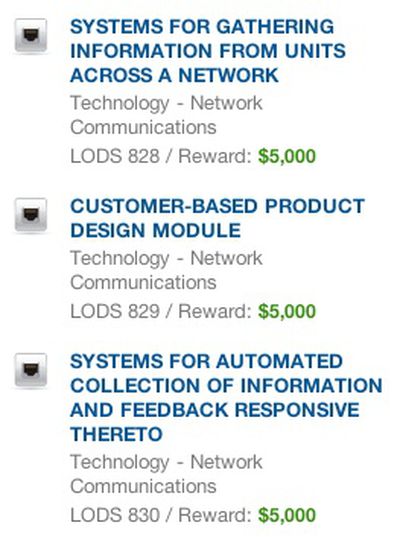 But that does not mean that Lodsys' patents are safe by any means. In addition to the four invalidation lawsuits already filed against Lodsys, CNET reports that crowdsourcing intellectual property research firm Article One Partners has launched a series of bounties for information on prior art or other issues that could help in the effort to invalidate Lodsys' patents.
Article One Partners, a business that crowdsources intellectual property (IP) research, has launched three new studies into patents held by Lodsys. Each offers a reward to the party that finds prior art, or examples of pre-existing technologies or other IP that could be used as evidence to invalidate one or more of Lodsys' patents.
Each of the three studies carries a $5,000 bounty guaranteed to be paid out to the researchers who submit what is judged to be the "highest quality prior art" to be used in attacking Lodsys' patents.
It is unknown who is funding the bounties on Lodsys' patents, as that information is not disclosed by Article One Partners. Article One is, however, an established company with a community of around one million people participating in crowdsourced intellectual property research on a variety of topics.