Apple Patent Application Addresses Advanced 'Find My iPhone' Features and Customizability
Patently Apple reports that another newly-published patent application from Apple reveals a hint at what could be the future of the company's "Find My iPhone" functionality. The proposed enhancements offer a device's owner a great deal more control over how it can be used once it is lost or stolen, as well as providing the device with smarter capabilities for detecting unauthorized usage. Among the interesting features: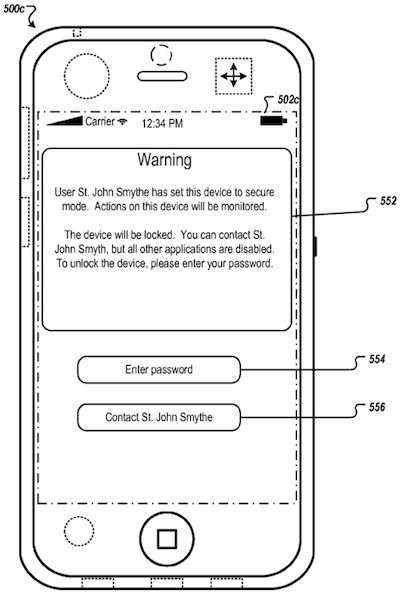 - Unauthorized usage detection: A passcode-enabled device could be programmed to automatically increase its security level after a certain number of incorrect passcode entries, moving to further secure sensitive information stored on the device or entering a surveillance mode in which it could begin collecting and transmitting audio, video, position, and other information that might help in identifying the person in possession of the device and reuniting it with its owner.


- Selective data scrambling and wiping: The system could offer device owners a high level of customization regarding actions to be taken when a device is identified as lost or stolen. Beyond the basic remote lock and remote wipe features available with "Find My iPhone" today, the system could allow users to selectively wipe or scramble select content such as emails, contacts and passwords. Such a system could help a user avoid the need to completely wipe their device remotely, allowing other device functions to continue and increasing the chances of recovery.
- Limiting device functions: In addition to scrambling or wiping of data, the system could allow users to selectively turn on or off access to certain features and capabilities on a lost or stolen device. For example, the user could turn off phone, texting, or cellular data capabilities, features that could otherwise result in charges being made to the owner's account. Additional security features such as the disabling of VPN capabilities can also help protect corporate networks from intrusion in the event that a device is lost or stolen.