iPad 2 Likely to Have 2048x1536 Screen Resolution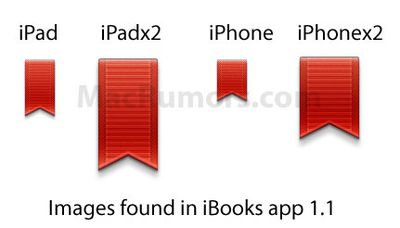 There's been a lot of talk about a "Retina" display for the next generation iPad due from Apple in the coming months, but it hasn't been completely clear what resolution the iPad's "Retina" display would be. Based on Apple's marketing efforts for the original "Retina" display, it would suggest a DPI (dots per inch) greater than 300 to exceed the abilities of the human eye.
A more practical approach would simply be doubling the resolution of the current iPad (1024x768) to 2048x1536 at a 260 DPI. While not quite a "Retina" display, it would follow with Apple's efforts to avoid fragmenting their product line. From a developer's perspective, the doubling of an existing resolution is much easier to support. Apple similarly doubled the iPhone's resolution from 480x320 to 960x640 when they introduced the iPhone 4. Like on the iPhone 4, older apps can will simply run pixel-doubled while native apps will take advantage of the full resolution of the new screens.
Based on some findings by @StroughtonSmith by way of @Xuzz on Twitter, it seems Apple is going to take this pixel-doubled approach again for the iPad 2. These icons were also previously found in August.
Version 1.1 of Apple's iBooks application seems to have accidentally included some artwork for this hypothetical pixel-doubled iPad. As shown above, the App's bookmark icon included versions for the iPad, the iPhone and the iPhone Retina Display (iPhonex2). It, however, also included one additional version labeled "iPadx2". Sure enough, this is exactly double the resolution version of the iPad icon and is distinct from the other versions. The most likely explanation for this added graphic is plans for a double-resolution iPad. Apple has since removed this extra artwork in subsequent versions of iBooks.
Based on this information, and persistent rumors of a higher resolution iPad 2, we believe the next iPad will have a 2048x1536 screen resolution. It would also explain why Apple would have to upgrade the GPU on the new devices to drive this higher resolution.
Update: Rafeed.me points out another "x2" iPad graphic found in iBooks 1.2.
See the Wood Tile@2x.png below. It's current dimensions are 1536x800 pixels. For comparison, the previous Wood Tile.png in iBooks 1.1 was a mere 768x400 pixels.

Update 2: Several commenters note that the "Retina" definition is based on a specific distance the device is being held from your eye. Since an iPad display would likely be held farther from your face, it would require a lower DPI to achieve the same effect.