Apple Overtakes Research in Motion in U.S. Smartphone Usage Share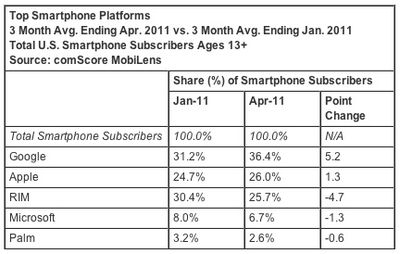 comScore today released the results of its April survey of mobile phone usage in the United States, finding that Apple has nudged past Research in Motion to claim the second spot among smartphone platforms behind Android. According to the data, Android continues to widen its lead and now holds 36.4% of the market, while Apple's iOS holds 26.0% and Research in Motion's BlackBerry operating system has slipped to 25.7%.


When looking at mobile phone manufacturers overall, Apple is now the fourth most-popular vendor with 8.3% of the market, once again barely beating out Research in Motion.
comScore's surveys of over 30,000 mobile phone subscribers examine installed user base rather than quarterly sales as with many other sources. Consequently, comScore's data examines a slightly different metric that is slower to respond to shifts in sales trends. Apple passed Research in Motion in quarterly U.S. shipments late last year, but the BlackBerry maker's historical lead had enabled it to hold off Apple in installed user base share until recently.