A new report from research firm Canalys shows Apple taking the lead among U.S. smartphone vendors in the third quarter of 2010, with its 5.5 million units representing 26.2% of the market and enabling it to surpass Research in Motion and its 5.1 million units.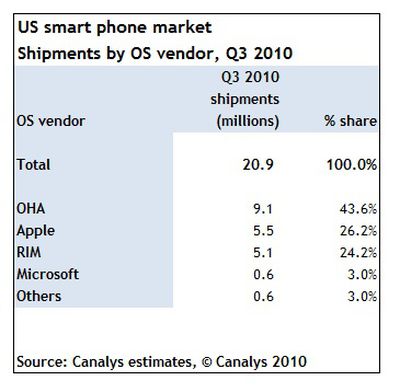 Apple was unable, however, to top the consortium of vendors known as the Open Handset Alliance (OHA) that has embraced Google's Android operating system. In aggregate, the OHA rang up sales of 9.1 million units, or a 43.6% share, during the quarter.
On a global scale, Nokia topped the list of smartphone vendors with 33% of the market, while Apple grabbed 17% and Research in Motion 15%.