Apple's North Carolina Data Center Appears on Google Satellite Imagery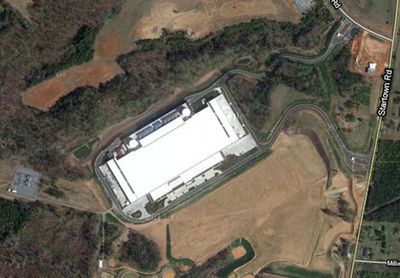 As noted by Fortune, Apple's new data center outside of Maiden, North Carolina is now visible on satellite imagery in Google Maps and Google Earth, lifting some of the veil of secrecy that has surrounded the project.
We knew what it looked like, thanks to the local Fox TV affiliate, a trespassing photographer and a local real estate agent who conducted a couple of video flybys that ended up on YouTube.

But if you asked Google Earth or Google Maps to show you the intersection of U.S. Route 321 and Startown Road -- where the data center is located -- the current satellite imagery stopped a few yards short of the construction site. West of Startown Road, there was, as recently as two weeks ago, nothing but woods and farmland and a bit of driveway that ended abruptly in the middle of a field.
We do know that the new imagery showing the data center was live at least a few days before Apple's announcement regarding an iCloud introduction, however, as we saw it over the weekend but did not make note of it as we had not determined if it was a recent development.
Speculation has suggested that Apple may have specifically been working with Google to keep imagery of the new facility off of Google Maps, but that is far from certain as Google's satellite images are updated only periodically, especially in rural areas such as this. Fueling the speculation was the fact the the facility had been located right on the boundary between satellite image data sets that showed a brief hint of the area under construction along its western edge while the remainder of site was covered by older imagery showing only fields and trees.
The new imagery shows cleared land directly to the southeast of the facility where Apple has proposed long-term plans to double the size of the center. Also shown at the upper right at the corner of Startown Road and Elbow Road is a new Town of Maiden fire station under construction, a facility that Apple required as part of its decision to locate the data center there as the town's main fire station in the center of town a few miles away was deemed too far away for Apple's liking. The fire station is being built on a small plot of land that formerly contained a modest home that Apple purchased for $1.7 million last year.