Apple Files for 'iCloud' Trademark in Europe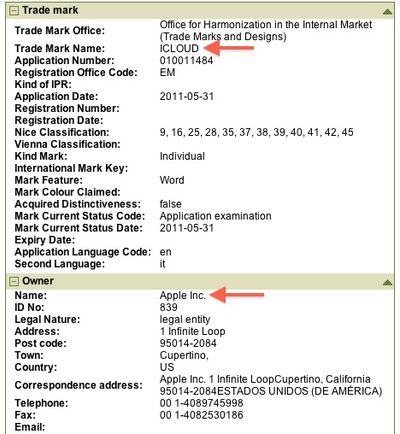 Unsurprisingly, Patently Apple notes that Apple has filed for a trademark on the term "iCloud" in Europe, staking out its territory as it prepares to introduce its new cloud-based service next Monday at its Worldwide Developers Conference (WWDC).
Apple has filed their trademark under 12 distinct International Classes covering such matters as delivering digital music by telecommunications, electronic storage, online social networking services, multimedia content for a fee or pre-paid subscription, computer software, electronic books and magazines, entertainment, photographic services, business management and advertising services, games, headgear and digital devices/computers.
In its application, Apple cites an application filed in Jamaica on December 7, 2010 for its priority date of registration.
iCloud trademarks are currently registered in the United States and Europe to Xcerion, the company behind the earlier iCloud service that recently rebranded itself as CloudMe after Apple reportedly purchased the domain and perhaps other rights to the iCloud name.
A new trademark application for iCloud also appeared in the United States last month, but the application appears to be unconnected to Apple itself and instead having been registered by Dane Baker of iOS development firm Villain, perhaps either as an attempt at squatting on the term given rumors of Apple's plans for a service by that name or simply to try to elicit a response from Apple confirming its interest in the name.