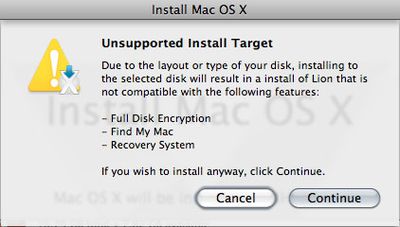 Find My Mac is likely one of the new Mac OS X Lion features that Steve Jobs will reveal at next week's WWDC keynote. One reader has noted that Find My Mac is mentioned when reinstalling the latest version of Mac OS X Lion.
DP3 through software update failed for me so I decided to format the lion partition and install it again. This is the warning I got when I tried to install lion on a HFS+ journaled formatted partition:
There is speculation that the Find My Mac feature is dependent on the creation of the recovery volume in Mac OS X Lion.
"Find My Mac" is expected to offer similar functionality as the "Find My iPhone" feature that Apple offers on iPhones. While most Macs don't have GPS built in, the same geographical Wi-Fi data used in the iPod Touch can be used to provide location data.