MacBook Air Supplies Constrained and On Sale Ahead of Refresh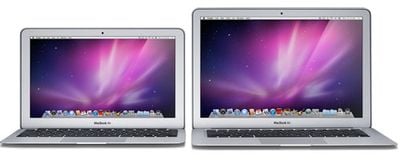 Both
CNet
and
Digitimes
have pinpointed the 2011 Macbook Air refreshes for the June-July timeframe. So, it should be no surprise that according to
retail sources
of 9to5mac, Apple's MacBook Air supplies are becoming constrained around the world.
The 2011 MacBook Air is believed to adopt the latest Sandy Bridge processors which come with Intel's embedded graphics chipset. This is a decision that Apple has already made for the latest low-end MacBook Pros, so we expect they will make the same decision in the new MacBook Airs. The new Airs should also adopt the Thunderbolt high speed connector that was introduced earlier this year.

Appleheadlines notes that MacBook Airs are on sale at some Best Buys. Several readers have also noted that the refurbished MacBook Airs on Apple's online store have also dropped in price. These price drops, however, may represent soft demand in the MacBook Airs rather than any particular knowledge about the new releases.