Teenager Targeted by Apple in White iPhone 4 Lawsuit Interviewed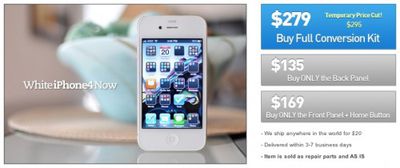 As we reported yesterday, Apple earlier this week filed a lawsuit against teenager Fei Lam and his parents over Lam's sale of unauthorized white iPhone 4 parts, alleging trademark infringement and dilution. At the time, we noted that Apple had simultaneously filed a voluntary dismissal of the case, suggesting that a settlement may have already been reached.
But in an interview with Fast Company, Lam reveals that he knows essentially nothing about the lawsuit, having learned about it only as reports spread through the media yesterday. Lam notes that a settlement has not been reached, but it will obviously be a topic of discussions apparently set to be held between Lam and Apple's lawyers "within the next month".
Q: When did you first find out about the lawsuit? Did Apple call or send a letter?
A: I came back from school today and saw your email. Lol.

Q: So have your parents mostly been handling the case then?
A: I told Apple's lawyer that I'm sick and to meet when I get better. That was last week. I'm [sic] been handling the whole thing

Q: So you have not settled?
A: I think that will be decided in the meeting.
According to Lam, he no longer has a lawyer representing him in the case, as he is unable to afford one. Consequently, he says that he will be meeting alone with Apple's lawyers at their offices in New York City.
Lam notes that he did not make $130,000 in profits as some reports have claimed, although he declined to specify exactly how much he made from the venture or where those profits have gone. The initial report on his business noted that he had sold $130,000 worth of the parts, but it is unknown how much he had to pay his Chinese supplier for them.