Apple Files Lawsuit Against Teenager Who Sold White iPhone 4 Conversion Kits, Settlement Reached?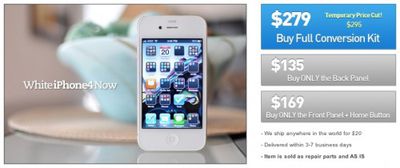 Last November, we highlighted the story of New York City teenager Fei Lam, who had managed to sell $130,000 worth of white iPhone 4 parts in just a few months to customers eager to get their hands on a white iPhone 4 has Apple continued to delay the release of the official model. Lam claimed that he had developed a secondhand relationship with someone at Apple's manufacturing partner Foxconn who had been supplying him with parts. At the time, the report noted that Lam had been contacted by a purported private investigator who claimed that Lam was trafficking in stolen goods, and Lam's site disappeared soon after.


Apple yesterday finally filed a lawsuit against Lam and his parents, claiming infringement and dilution of its trademarks and engaging in deceptive practices through his conversion kit sales through his website at whiteiphone4now.com. Apple did, however, also file a voluntary dismissal of the lawsuit at the same time, suggesting that a settlement has may have been reached, although Apple's request for dismissal without prejudice means that the company reserves the right to refile the claim at some point in the future.
Defendent Lam willfully and without authorization has used Apple's trademarks in connection with the sale of his "White iPhone 4 Conversion Kits," which among other things included white front and back panels with Apple's logo and "iPhone" trademarks that are used in connection with the promotion and sale of Apple's well known iPhone 4 handheld mobile digital electronic devices. Defendant at all times knew that Apple never has authorized the sale of white panels for its iPhone 4 mobile devices, and that he obtained these panels from sources that were not authorized by Apple or any of its suppliers to sell them.
Lam's parents were included in the suit under claims that they aided and abetted him by allowing him to engage in the activity while he was a minor under their supervision. Apple claims that Lam's actions dilutes Apple's trademarks and compromises its relationships with customers by causing confusion about whether Apple had authorized sales of white iPhones.
Apple's filing includes quotes from instant messaging exchanges between Lam and Alan Yang, a business owner in Shenzhen, China who was obtaining the parts for Lam, quotes that make clear that Yang was occasionally having difficulties getting parts shipped out as customs agents in Hong Kong were giving in troubles over the trademark issues.
Apple requested a permanent injunction barring the Lams from any further sales, forfeiture of all profits from the sale of white iPhone 4 parts, reimbursement for expenses occurred in pursuing the case, and additional financial penalties. With the request for dismissal, however, it is unclear what Apple may have obtained from the Lams in a potential settlement.