Square Seeks to Revolutionize Retail Sales With 'Square Register' for iPad and 'Card Case'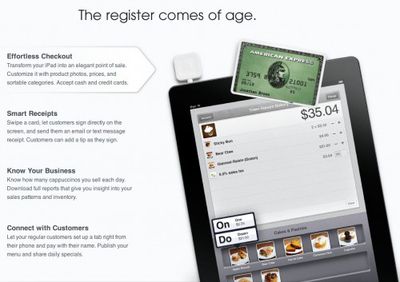 Square, the company that has brought the ability to accept credit cards for transactions to individuals and small businesses with a card reader dongle for iOS devices, today announced its next venture: "Square Register" for iPad. Seeking to replace traditional cash registers with iPads equipped with the new Square Register application, Square notes that the app will allow businesses to easily customize the register interface with their full list of products.
Analytics tools will allow businesses to see up-the-minute details on sales performance, broken down by any number of metrics to help businesses study sales trends. The Square Register functionality comes as an update to the iPad version of the company's universal App Store app.


From the customer perspective, Square is rolling out "Card Case", virtual business cards that allow customers to view details on their favorite businesses, directly accessing live-updated menus and product listings from the card as well as transaction histories with item-level detail.
Replacing loyalty cards and credit card payment methods, Square Cards will allow a customer to establish a relationship with a business and pay for goods without having to carry a wallet, a mechanism Square CEO Jack Dorsey likens to having a permanent tab opened with the business. Transaction confirmations and receipts are pushed to users' phones for record-tracking. Users can initiate a payment by activating the business's Square Card on their phone when within range of the business and then simply giving their name at the register to have the purchase charged to their account.
Square Register and Square Cards are rolling out now through 50 merchants located in New York City, San Francisco, Washington DC, St. Louis, and Los Angeles, with further expansion coming soon.