Details and Impressions on Apple's Retail Changes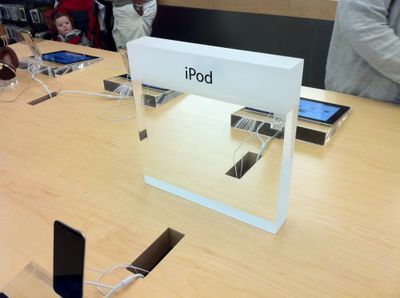 One MacTalk.com.au forum goer, Jack112006, posted detailed impressions of the new Apple Retail store changes:
As I was purchasing an iMac today, I spent quite a while talking to a few different staff members about the changes. To them, having the iPads as product info stands was nice, but the real change to them caused by the iPads is the queue system they introduce. Now, instead of having to wait around to find a free Specialist, all you have to do is request a Specialist from an iPad at the table you are at and they will be over as soon as they can be. It even tells you what place in the queue you are.
This queue system is an improvement over the current system in which customers had to fend for themselves looking for a free specialist. One concern by the retail staff was if customers might get frustrated and leave if they find themselves at the end of a long queue.
The posting also confirms something else we'd heard -- that the display iPads use a special ultra-thin tape-like ribbon cable that does connect into the iPad's dock connector to provide charging as well as an alarm in case of removal. As reported, the home button is non-functional on the display units, to prevent people from exiting out of the interactive demo software.
The overall feel of the store is said to be changed as about 35% of the store is devoted to setup and is described as a "much more community-centered space, contrary to the showroom feel of before."
Finally, Apple slipped a special inspirational note in with the documents to Apple retail employees.