Apple Planning Huge New Retail Store in the Heart of Madrid?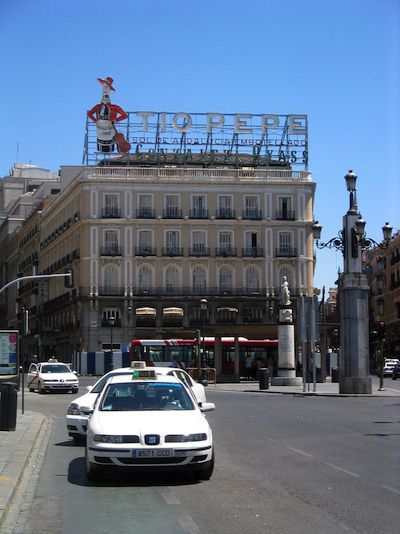 Spanish newspaper El Pais reports [Google translation] that the mayor of Madrid has announced that Apple will occupy the entirety of a landmark building in the center of the city on the Puerta del Sol, snapping up 6,000 square meters (~65,000 square feet) of space. The building, famous for its large neon sign advertising popular sherry brand Tio Pepe that has temporarily been removed for restoration during the building's renovation, includes seven floors plus a basement and was built in 1863.
Apple's interest in the building is not new, but previous reports had suggested that Apple would occupy only the lower one or two floors with earlier hotel uses being maintained on the upper floors. Today's announcement reveals, however, that Apple, the building's owners, and the city have come together to forge an agreement that will see Apple taking the entire space.
It is unlikely that Apple will devote the entire seven floors to retail store space, presumably using some of the upper floors for office space to support the company's operations in the region, so it is currently unknown just how large the retail space will be. Apple's largest stores currently check in at up to around 25,000 square feet. Restoration work on the building is scheduled to wrap up by October or November of this year, with the Apple retail store opening at an unannounced date after that time.
Apple currently operates two retail stores in Spain, with one of them being a typical mall-based store located on the outskirts of Madrid.