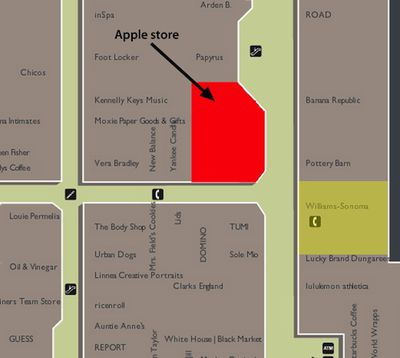 Apple's new store in red, Microsoft's store on lower level shadowed in yellow
Last November, Microsoft opened a new 5,000 square-foot retail store in the Bellevue Square mall in the state of Washington near its corporate headquarters, moving in just a few doors down from Apple's
slightly smaller store
in the mall.
As reported by ifoAppleStore, however, Apple has apparently decided to use its recent strategy of expanding and/or relocating existing stores to take on Microsoft in the Bellevue Square mall. To that end, Apple is moving its retail store to a new location within the mall, doubling its size and taking a position on the second floor away from but still within view of the Microsoft store on the lower level.
Whatever their motive, later this year the Apple store will move, from its ground-floor location that opened in 2003 with 4,600 square-feet, and into a second-level space formerly occupied by three separate retailers. When the move is finished by year's end, the store will double its current size and, most importantly, will be visible to every single visitor leaving the Microsoft store across the hallway and one floor below.
Apple has been making a concerted effort to both build larger stores to help accommodate the large crowds, as well as expand or replace a number of its older, smaller stores that see foot traffic well in excess of desired capacity.