Clipless Next-Generation iPod Nano With 1.3-Megapixel Rear Camera?
In early April, Taiwanese site Apple.pro posted a photo of what was claimed to be the rear case for the next-generation iPod nano, appearing to reveal that the device will add a rear-facing camera to its recently-reduced form factor.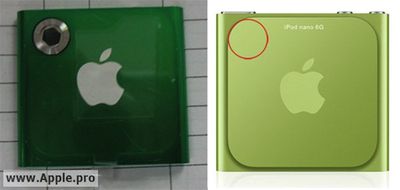 Claimed next-generation iPod nano case (left) vs. current generation (right)
While the previous shot showed that rear case from the front, thus showing the interior of the device,
Apple.pro
has now received a
new photo
[
Google translation
] appearing to show the same or similar part from the backside. The photo again clearly shows the camera hole, although there is obviously no camera module included with the case.
Interestingly, the new photo shows no clip attached to the rear of the case, with the Apple logo appearing directly on the case itself. We had pointed out in our earlier report that it was unclear how the camera would function in relation to the clip on the existing model that covers essentially the entire back of the iPod and would thus obscure the camera lens.
Removing the clip from the iPod nano entirely, however, would be a bit of a surprise given the device's small size and Apple's marketing of the current model as a sporty accessory to be worn on the outside of the user's clothing for quick access to device functions. The iPod nano and clip carry a similar functionality to that used with the iPod shuffle for many years, a design that Apple briefly deviated from before returning to the previous form factor last year.
Today's new report also claims that the iPod nano camera will check in with a resolution of 1.3 megapixels, a fairly low resolution compared to many devices like the iPhone but still higher than that found in the current iPod touch and even the iPad 2. Such cameras are generally intended more for capturing video than high-quality still photos. In fact, Apple's previous effort at packing a video camera into the iPod nano when it had a large form factor yielded a device capable of taking only video and not still images.