Amazon Cloud Player Gains iOS Compatibility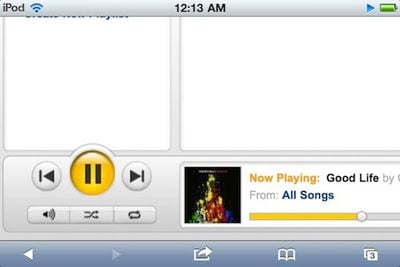 Late last week,
iFans noted
that Amazon quietly made some changes to its new
Cloud Player
for playing music stored by users in its new Cloud Drive service, making the player compatible with iOS devices for the first time.
While it isn't quite as nice as an actual app, it provides nearly all of the functionality that you could ask for. Even the multitasking music controls work flawlessly. Sound quality is said to be "great," and the only part of it that is a little buggy seems to be the scrubbing capability.
Uploading music is unsupported on iOS due to the feature's reliance on Flash, although users are presumably most interested in batch uploading tracks from their primary computers. Drag-and-drop playlist rearranging also appears to be unsupported, and iOS support appears to be U.S.-only at the moment. The user interface is also not customized for the smaller screens of the iPhone and iPod touch, making navigation a bit awkward and requiring frequent panning and zooming.