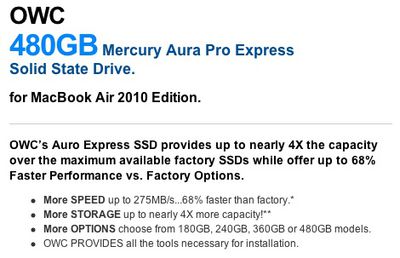 Expanding on its
line of aftermarket solid state drives (SSDs)
for the new MacBook Air, Other World Computing today
announced
that it has added a new 480 GB option to the mix, up from the previous maximum of 360 GB.
Other World Computing today announced its OWC Mercury Aura Pro Express Solid State Drive is now shipping in an industry largest 480GB capacity for all 2010 Apple MacBook Air models. First announced at the 2011 Consumer Electronics Show this past January, the OWC Mercury Aura Pro Express line now offers up to 4X greater capacity and up to 68% faster real-world performance than factory available options.
Pricing for the new 480 GB drive comes in at a hefty $1579.99, but power users looking for large storage capacities in an extremely portable machine may be interested in the options.
Just yesterday, we noted that Ars Technica had posted an extensive installation walkthrough and review of the OWC drives.