U.S. Carriers Cracking Down on Android Hotspot Tethering Apps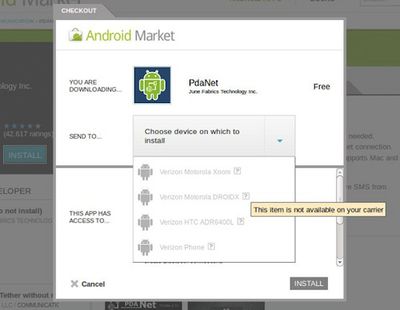 Image from Engadget
Droid Life reports
(
via Engadget
) that U.S. carriers have recently stepped up their efforts to crack down on Android apps that permit users to create Wi-Fi mobile hotspots by tethering to their mobile phone and using the device's data connection.
After receiving a tip that Verizon may be blocking Wireless Tether from the market, I decided to do a little digging on the variety of devices I own. Sure enough, from all of my phones, including the Nexus S I have running on AT&T, I was unable to find Wireless Tether in the market. So to see what was really going on, I jumped into the browser-based Android Market to see if I could find the app and definitely did. But what you are seeing, is my list of devices, all of which cannot accept this app.
One of the main promotional points of Android as its popularity has soared has been the unregulated nature of the app marketplaces for the platform. As opposed to Apple's belief that customers are better served by a marketplace in which Apple serves as the gatekeeper to ensure that apps meet certain standards, Android has been much more of a free-for-all with developers free to release nearly any type of application for use on compatible devices.
As Android has gained in popularity, however, things have begun to tighten up, with Google recently exerting control in an attempt to reduce fragmentation in what has long been billed as an open system available for tweaking and customization by any and all who wish to deploy hardware utilizing the platform.
But it certainly appears that even carriers are now getting into the act, seeking to cut off at the source consumer access to apps that can violate the carriers' terms and conditions rather than dealing with customers directly. Users can of course work around carrier restrictions with methods known as "sideloading" that allow users to install apps through unapproved sources, but most casual users are undoubtedly sticking to mainstream, authorized marketplaces such as the Android Market for their needs.
The iPhone has supported tethering via USB and Bluetooth directly via the operating system for some time now, and has recently added Wi-Fi hotspot functionality. These features do, however, require support from individual carriers, many of whom charge extra for the privilege of using them. Some users have worked around those restrictions by jailbreaking their devices and installing apps such as MyWi, although carriers such as AT&T have recently increased their efforts to identify those users and move them to more expensive data plans officially supporting the hotspot functionality.