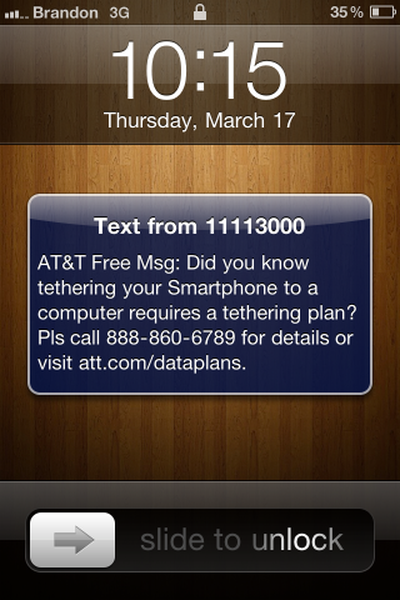 ModMyI
and
our forums
have reported that some users are receiving notices from AT&T about unauthorized tethering. Tethering is the act of sharing your iPhone's 3G connection with another device. AT&T charges an additional fee for this activity.
Some users received the above SMS message with a followup email explaining tethering and warning them that tethering will be enabled if they continue to use that feature.
Many AT&T customers use their smartphones as a broadband connection for other devices, like laptops, netbooks or other smartphones - a practice commonly known as tethering. Tethering can be an efficient way for our customers to enjoy the benefits of AT&T's mobile broadband network and use more than one device to stay in touch with important people and information. To take advantage of this feature, we require that in addition to a data plan, you also have a tethering plan.
Our records show that you use this capability, but are not subscribed to our tethering plan.
...
If we don't hear from you, we'll plan to automatically enroll you into DataPro 4GB after March 27, 2011. The new plan - whether you sign up on your own or we automatically enroll you - will replace your current smartphone data plan, including if you are on an unlimited data plan.
TiPb speculates on how they are detecting unauthorized tethering:
I think it's one of two things. Since AT&T offers Personal Hotspot under iOS 4.3, they may have access to data they didn't before, and they're choosing to use it in a pretty crappy way. So if you're on iOS 4.2.1 still (almost all jailbreakers are) and they see you're generating traffic that looks like Personal Hotspot, they know you're doing so without a plan. Once a jailbreak for iOS 4.3 is released, I bet it will make it a lot harder for them to track what users are actually tethering legitimately. Option two, they're just going after heavy data users again and trying to bluff them into switching to a tethering plan and losing their unlimited data.