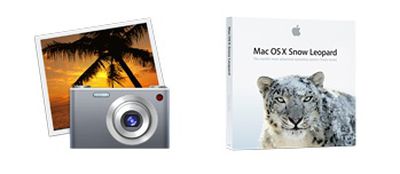 Apple today released a pair of software updates via Software Update and its support download pages, bringing an updated version of iPhoto and a fix for font issues on Mac OS X Snow Leopard.
iPhoto 9.1.2 adds new card themes and fixes a host of minor issues with the company's photo management component of iLife '11.
This update adds new card themes to iPhoto '11. It also improves overall stability and addresses a number of other minor issues, including the following:
- Addresses an issue that prevented the Zoom slider from being accessible in Magnify (1-Up) view
- Fixes an issue where Toolbars were not auto-hiding in Full Screen view
- Search field now correctly performs an "includes" search when searching by text string
- Fixes minor formatting issues with book, card and calendar themes
- Message Size of emails now correctly updates when changes are made using the Photo Size menu
- Addresses an issue that prevented some iPhoto 5 libraries from upgrading correctly
- Multiple book pages can now be drag-selected when in All Pages view
- Design tools in print project panels are now accessible via separate Layout and Options buttons
- Photo backgrounds applied to a book are now preserved when book type is changed
- Tab key can now be used to navigate through all text fields in a book project
iPhoto 9.1.2 weighs in at 106.32 MB and requires Mac OS X 10.6.6 or later.
Snow Leopard Font Update brings fixes for handling of certain OpenType fonts.
The Snow Leopard Font Update addresses issues displaying and printing certain OpenType fonts and is recommended for all Mac OS X v10.6.7 users.
Additional detail on the update is included in an associated support document.
The update includes fixes that:
- Address an issue in which some OpenType fonts don't display correctly in certain applications
- Resolve issues printing from Preview
- Address an issue with PDF files not opening in third-party PDF viewing applications
- Resolve invalid font errors when printing to PostScript printers
Snow Leopard Font Update weighs in at 3.77 MB and requires Mac OS X 10.6.7.