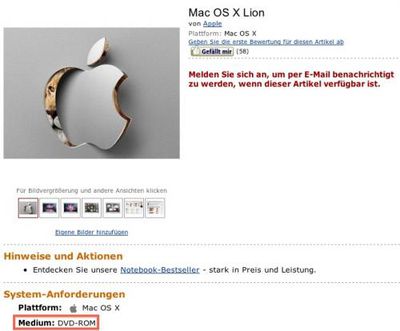 Apple Bitch notes
that a new
placeholder
has appeared on Amazon's German site suggesting that Apple will be distributing Mac OS X Lion on DVD when it is released later this year.
A listing for the latest version of the Mac operating system, OS X 10.7 Lion, which is due for release this summer, has appeared on the German Amazon website. The significance of the listing is that the OS is apparently being offered on DVD, rather than on the USB thumb drive, upon which Apple had begun to offer the Snow Leopard OS with the purchase of the new MacBook Air models last year.
No price or availability date is given on the listing.
Amazon's site is a rather frequent source for product speculation given the company's tendency to post placeholders based on rumor in advance of official release information, and Amazon's German site seems to be one of the most active of Amazon's regional arms in this regard. Consequently, we hesitate to read too much into this speculation and are posting it on Page 2 primarily for interest and discussion at this time.
The distribution mechanism for Mac OS X Lion is certainly up for discussion given recent developments in Apple's hardware and software offerings. With the redesigned MacBook Air lacking an optical drive and proving to be a popular notebook for consumers, Apple's shift to a small USB drive for backup software on the machine has led to speculation that the company could adopt that method entirely for Mac OS X Lion distribution.
In addition, Apple has been delivering developer seeds of Mac OS X Lion via the company's new Mac App Store, which launched in early January. Consequently, it seems likely that Apple will at least offer the option of Mac OS X Lion as a download purchase through that platform.