Apple Finally Unveils Revamped 'Apple Support Communities'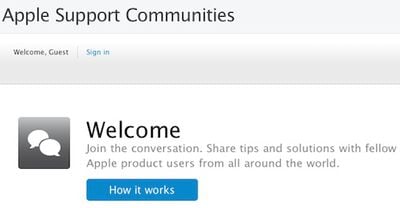 Over the weekend, Apple finally rolled out the planned revamp of its support discussions forums, rebranding them as
Apple Support Communities
. The company had
announced last August
that the changes would be happening "very soon".
Apple has posted a series of tutorials laying out how Apple Support Communities bring a new organization and layout to the company's discussion forums, offering individual sections for each product line and a prominent text box for searching existing discussions by typing in a question.
Social-based features allow users to promote replies to questions by offering their own responses or "liking" individual posts. Community members can flag previously-posted answers as "correct", increasing the reputation score of helpful members to give additional weight to their future comments and provide them with increased privileges within the forums.
As noted by Fortune, however, the revamp is not being met with universal acclaim, with a number of users complaining about the changes and other bugs. While it will obviously take a bit of time for users to become familiar with the operation of the new site, it remains to be seen whether Apple will incorporate some of the feedback to improve the new Apple Support Communities experience.