Apple Releases Update to Mac OS X Lion Developer Preview 2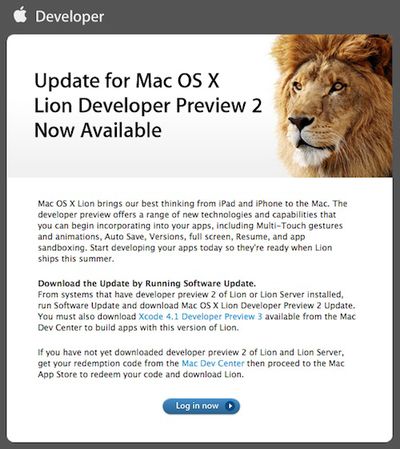 Apple has apparently just pushed out an update to its Mac OS X Lion Developer Preview 2 initially
released late last month
. While the changes included in the update obviously fall short of qualifying for an entirely new "Developer Preview 3", it is unknown exactly what tweaks have been made with the new update.
Download the Update by Running Software Update.
From systems that have developer preview 2 of Lion or Lion Server installed, run Software Update and download Mac OS X Lion Developer Preview 2 Update. You must also download Xcode 4.1 Developer Preview 3 available from the Mac Dev Center to build apps with this version of Lion.
If you have not yet downloaded developer preview 2 of Lion and Lion Server, get your redemption code from the Mac Dev Center then proceed to the Mac App Store to redeem your code and download Lion.
The update is appearing in Software Update for those with the Lion Developer Preview 2 installed, and Apple has sent out an email alerting all Mac OS X developers about the release. We've been told that the new build is 11A430e, compared to 11A419 for the original Developer Preview 2.