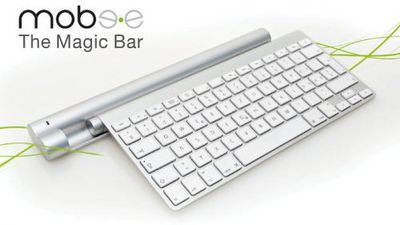 Swiss company Mobee today announced the upcoming debut of its new
"The Magic Bar"
induction charging station for Apple's Wireless Keyboard and Magic Trackpad. Replacing the devices' batteries with induction charging cells, the docking station connects to the user's computer via USB and wirelessly charges input devices sitting within the station.
The Magic Bar is the world's first Inductive Charger for the Apple Bluetooth Keyboard and Magic Trackpad.
Composed of a specific cylindrical battery pack, a stylish aluminum-made base station and a micro-USB cable, The Magic Bar will easily be placed in front of your iMac or Apple Led display and will become the place where you leave your Apple input device when you leave your office.
The Magic Bar will require six hours to recharge each device and provide up to ten days of power, considerably less time than standard AA batteries but a tradeoff that could be acceptable to users given the ease of recharging.
A companion to Mobee's well-regarded "The Magic Charger" system for Apple's Magic Mouse, The Magic Bar is priced at $59.90 and Mobee will begin taking pre-orders on May 15th for delivery beginning in late June. The system contains one charging station and one battery pack. Mobee will presumably also be offering individual battery packs for replacement purposes or for users who have both a keyboard and a Magic Trackpad, but the company has yet to announce specific plans or pricing for any such offering.