Apple AirPlay Private Key Exposed, Opening Door to AirPort Express Emulators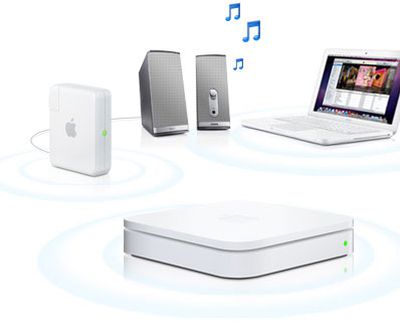 Developer James Laird has
reverse engineered
the Airport Express private key and published an open source AirPort Express emulator called Shareport.
This program emulates an Airport Express for the purpose of streaming music from iTunes and compatible iPods. It implements a server for the Apple RAOP protocol.
Previously, the private key was unknown, which meant that only Apple's Airport Express or official 3rd party solutions could wirelessly stream music from iTunes or equivalent. Many existing solutions such as Rogue Amoeba's Airfoil have long been able to stream music to AirPort Express or other AirPlay devices, but not the other way around. A Hacker News commenter illumin8 spells it out:
Previously you could do this:
iTunes -- stream to --> Apple Airport Express
3rd party software -- stream to --> Apple Airport Express
Now you can do this:
iTunes -- stream to --> 3rd party software/hardware
Now, it seems unlikely that any hardware manufacturers will use the unauthorized information to create AirPlay-compatible hardware products, especially when it is possible to be an officially licensed AirPlay partner. However, this does open the door to software solutions. iTunes music , for example, could be streamed to other Macs, non-Macs, customized consoles (Xbox 360), or mobile devices with the right software. The developer originally posted the key to the VideoLan developer mailing list in case there was interest in adding that feature to a future version of VLC.