AT&T Boosts 'Early Upgrade' iPhone Pricing by $50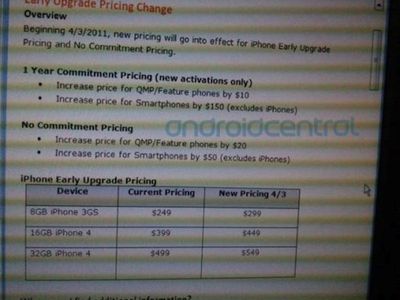 Last Friday,
Android Central
posted a screenshot
appearing to show changes to AT&T's smartphone pricing structure set to go into effect yesterday, increasing "early upgrade" pricing for all iPhone models that is applied when an on-contract customer is not yet eligible for full subsidy by $50.
According to the AT&T bulletin, early upgrade pricing for the 8 GB iPhone 3GS has moved from $249 to $299, while the 16 GB iPhone 4 has moved from $399 to $449 and the 32 GB iPhone 4 moved from $499 to $549. BGR has confirmed the price increases with AT&T.
AT&T is also boosting prices on its feature phones and non-iPhone smartphones, pushing no-commitment pricing up by $20 on feature phones and $50 on non-iPhone smartphones. AT&T's one-year commitment pricing is also going up by $150 for non-iPhone smartphones, while feature phones on similar plans are going up by $10.