Mac OS X Lion Developer Preview 2 Brings New Look for iCal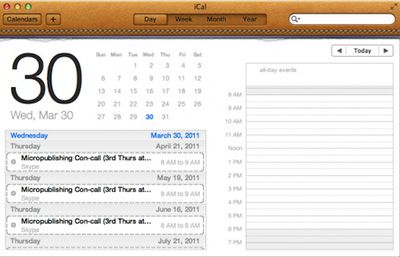 As
noted in our forums
and
by 9 to 5 Mac
, Apple's
new developer build
of Mac OS X Lion offers a new look for iCal bearing a stronger resemblance to the iPad's Calendar application. The new look gives the appearance of a physical desktop calendar with leather binding along the top edge, and like the iPad application shows remnants of torn-off pages for additional realism.
According to reports, iChat also offers a new unified buddy list for accounts from various services, similar to how Adium supports multiple services. iChat to date has offered separate windows for AIM, Jabber, and Bonjour contacts, although add-ons such as Chax can bring unified contact lists to the current iChat.
Mac OS X Lion reportedly remains a work-in-progress, with Apple's seed notes outlining a long list of known issues and developers still reporting issues despite some progress being made in a number of areas.