Japanese Earthquake Leading to Shortages of iPod Batteries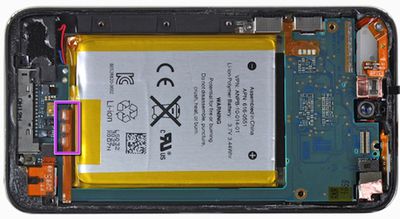 Fourth-generation iPod touch battery (iFixit)
The Wall Street Journal reports
that Apple is facing shortages of the lithium-polymer batteries used in its iPod line, as a Japanese supplier has been forced to shut down its facilities following the earthquake there earlier this month.
A representative from Apple Inc. recently called Kureha Corp.'s offices in the U.S. The problem: Apple was facing tight supplies of lithium-ion batteries used in its popular iPods, and they traced the supply bottleneck to the relatively obscure Japanese chemicals maker.
Kureha, which has a 70% share of the global market for a crucial polymer used in lithium-ion batteries, had to shut its factory in Iwaki -- near the quake's epicenter -- after the March 11 disaster struck. It is the only place where Kureha makes this particular polymer.
The development has increased the urgency with which Kureha is seeking to diversify its production beyond Japan to include the United States and China, but such efforts will not be able to ease near-term shortages.
According to the report, Kureha's facility in Iwaki escaped the disasters relatively unscathed, but extensive damage to the port nearby has prevented deliveries of materials needed to manufacture the polyvinylidene fluoride polymer from reaching the plant. No estimate for reopening the factory has been provided.
It is unclear why only Apple's iPod line is cited in the report, as virtually identical lithium-polymer batteries are used in the iPhone and iPad. Similar technology is also used in Apple's notebook batteries, although those units may not utilize the pliable polymer manufactured by Kureha in their construction.