IDC Projects Windows Phone to Top iPhone in Market Share by 2015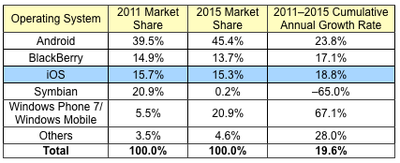 IDC's worldwide smartphone operating system market share projections: 2011 and 2015
(Platforms listed alphabetically)
A
new report
issued today by research firm IDC is gaining significant attention for its bold prediction that Microsoft's Windows Phone platform will surpass the iPhone in worldwide smartphone market share by 2015. The report cites the
partnership
between Nokia and Microsoft as being key to Windows Phone's performance, which is unsurprisingly projected to come at the expense of Nokia's own Symbian operating system that will be phased out.
Nokia's recent announcement to shift from Symbian to Windows Phone will have significant implications for the smartphone market going forward. "Up until the launch of Windows Phone 7 last year, Microsoft has steadily lost market share while other operating systems have brought forth new and appealing experiences," added Llamas. "The new alliance brings together Nokia's hardware capabilities and Windows Phone's differentiated platform. We expect the first devices to launch in 2012. By 2015, IDC expects Windows Phone to be number 2 operating system worldwide behind Android."
As for the iPhone, IDC sees the device averaging growth of 18.8% per year between 2011 and 2015, but that growth rate is predicted to be slightly lower than the overall smartphone market's growth of 19.6%. Consequently, IDC predicts that Apple's share of the smartphone market will slip slightly from 15.7% this year to 15.3% in 2015, although iOS is predicted to remain ahead of Research in Motion's BlackBerry operating system, which is predicted to slip from 14.9% to 13.7% of the market over the same period.