Approximately 1/8th of U.S. iPhones in Use Now on Verizon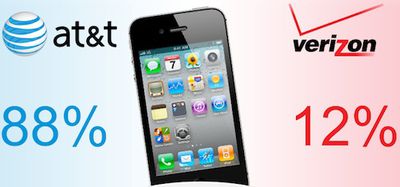 At the time of the Verizon iPhone launch just over a month ago, we
pointed
to a live tracker set up by mobile ad firm Chitika measuring the balance of AT&T and Verizon devices registering on its network. At the time, just one day after the device launched to the general public, the Verizon iPhone accounted for 3% of the U.S. iPhone base as measured over a rolling 24-hour window.
Chitika has continued to monitor the iPhone balance in the U.S., and today reported that the Verizon iPhone now accounts for 12.7%, or over 1/8th of the U.S. iPhone base, although the Verizon iPhone's share has since sunk to 11.9% due to measurement fluctuations over time.
Since the launch of the Verizon iPhone, we've been tracking iPhones through our system and breaking down what percentage come from AT&T vs. Verizon. As of today, Verizon is up to 12.7% of all iPhone web usage, based on data from the Chitika ad network.
Apple has of course been expanding its partnership with Verizon in recent months, beginning with packages including the original iPad and a MiFi hotspot device before moving on to the iPhone 4 last month. And just last Friday, Apple debuted the second-generation iPad, which comes in a series of models directly compatible with Verizon's network.
Update: Chitika has updated its post to note that issues with servers earlier today caused the tracker to "jump around a bit". The tracker is currently showing Verizon's share at 10.4%.