Apple Delays iPad 2 Launch in Japan Following Earthquake and Tsunami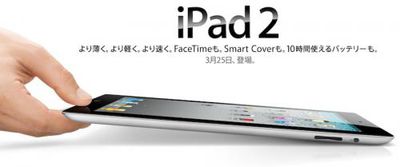 Reuters reports
that Apple has delayed the launch of the iPad 2 in Japan following last week's earthquake and tsunami that have devastated significant parts of the country. The iPad 2 had been scheduled to debut in Japan as part of a broad international to over two dozen countries on March 25th.
"We are delaying the launch of the iPad 2 in Japan while the country and our teams focus on recovering from the recent disaster," said Apple spokeswoman Natalie Kerris.
Apple has yet to announced a rescheduled Japanese launch date for the device.
The delay comes as Apple continues to accept donations via iTunes to support aid efforts by the American Red Cross in Japan.
Meanwhile, Digg founder Kevin Rose yesterday shared an email from a friend in Japan relaying Apple's efforts to support its customers and employees in the aftermath of the earthquake. In the hours after the earthquake, the company's retail stores served as point of connectivity to allow people to gather information and contact friends and family, while the company also allowed employees and their families to temporarily seek shelter in the retail stores and offered to assist those attempting to return to their homes.