iPad 2 Smart Cover Teardown Reveals 21 Magnets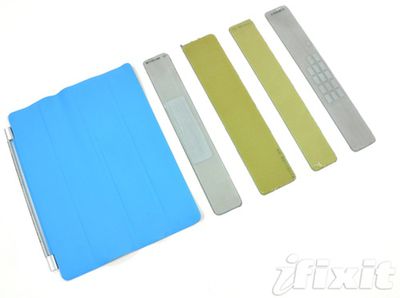 Noted teardown firm iFixit
reported
today that it has
performed a teardown
of the Apple's highly-publicized
Smart Cover
for the iPad 2, revealing a plethora of magnets inside the device to keep it aligned on the surface of the iPad and to turn the iPad on and off.
There are a total of THIRTY ONE magnets within the iPad 2 and Smart Cover: 10 magnets in the iPad 2, and a whopping 21 magnets inside the Smart Cover. They're the reason why the cover works so well with the iPad 2.
Long, thin magnets are embedded in the sides of the iPad in order to hold the Smart Cover firmly in place on the left side and keep the cover closed on the right side.


iPad 2 sleep sensor (red) and magnets for keeping cover closed (yellow)
A single round magnet in the rightmost panel of the Smart Cover interacts with a sleep sensor embedded in the right edge of the iPad to turn the iPad on and off as the cover is opened and closed.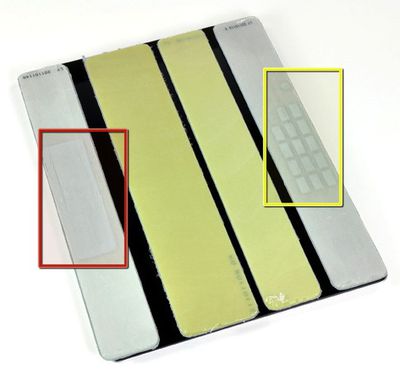 Steel plate (red) and 15 magnets (yellow) interact to stabilize stand
The Smart Cover is broken into four panels to allow it to fold into a triangular shape to serve as a stand. A total of 15 magnets in the rightmost panel of the cover are used to bond to a steel plate in the leftmost panel to stabilize the stand.
Apple offers polyurethane Smart Covers in five colors priced at $39 each, with leather covers also available in an additional five colors for $69 each.