AT&T to Permit Grandfathered Unlimited iPad Data Plans to Transfer to iPad 2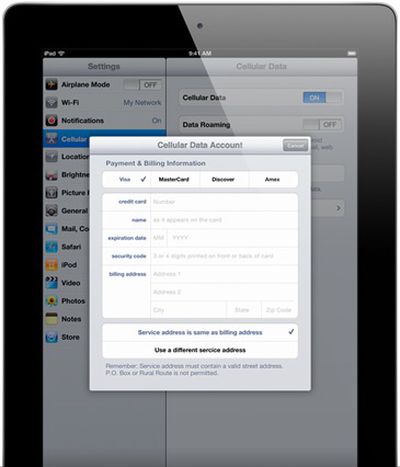 Engadget reports
that AT&T has confirmed that it will allow iPad users currently on the company's discontinued unlimited data plan to transfer the plan to a new iPad 2.
If you were lucky enough to snag one of those coveted unlimited data plans with your original AT&T iPad, you won't have to toss it when upgrading next week. The carrier has confirmed to us that those who currently have the aforementioned plan will be able to keep it on their account when upgrading to the iPad 2, which in turns gives you no reason whatsoever to turn down the opportunity.
At the launch of the original 3G-capable iPad in late April of last year, AT&T offered an unlimited data plan priced at $29.99 per month. But just a little over a month later, the carrier announced that it was discontinuing the unlimited plan and replacing it with a 2 GB plan priced at $25 per month, with customers reaching the maximum ahead of the end of the billing cycle able to initiate a new $25 cycle at that point. But customers who had already signed up for the unlimited data plan were grandfathered in and permitted to keep that plan as long as they did not let their plan lapse or switch to a lower tier.