Apple Job Listings Hint at Plans for Revamped Online Store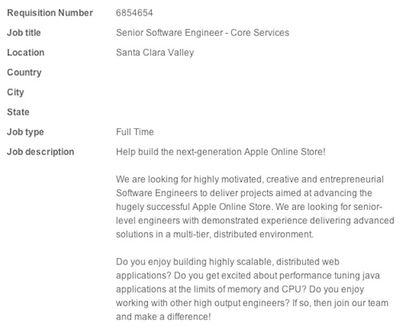 Apple's online store experience has remained relatively consistent for a number of years now, but a new hiring binge suggests that the company may be preparing to revamp the store from the ground up.
One job listing, which appeared late last week and hints at multiple available senior software engineering positions in the "Core Services" functionality of the store, explicitly references the "next-generation Apple Online Store".
Help build the next-generation Apple Online Store!
We are looking for highly motivated, creative and entrepreneurial Software Engineers to deliver projects aimed at advancing the hugely successful Apple Online Store. We are looking for senior-level engineers with demonstrated experience delivering advanced solutions in a multi-tier, distributed environment.
Do you enjoy building highly scalable, distributed web applications? Do you get excited about performance tuning java applications at the limits of memory and CPU? Do you enjoy working with other high output engineers? If so, then join our team and make a difference!
While Apple's online store is continuously evolving, making it arguable that the "next-generation" store comes about on a regular basis, the sheer number of positions being advertised suggests that something more may be going on. In late February, an earlier posting for senior engineers in Core Services appeared alongside two other listings looking for engineers focused on checkout services, while the company has also solicited for a host of other senior software engineer, software test engineer, content development manager, and senior-level portfolio manager positions for the store in recent weeks.
Apple is obviously hiring new staff to expand and replenish its ranks in support of existing programs on a regular basis and it can be difficult to separate out the rhetoric of human resources managers from Apple's true goals, but the recent surge seems quite out of the ordinary given the company's usual hiring trends, leading us to wonder whether Apple is taking steps to beef up its development teams to support a significant redesign of the online store in the months ahead.