Apple Releases iTunes 10.2 With Support for iOS 4.3 and Improved Home Sharing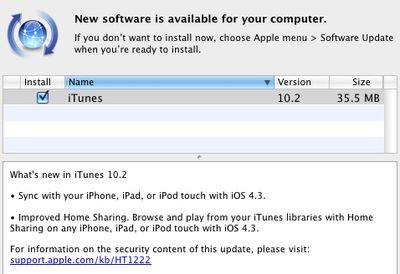 Hot on the heels of the iPad 2 announcement, Apple today released iTunes 10.2. The update brings compatibility with iOS 4.3 and improved home sharing support for browsing iTunes libraries from iOS 4.3 devices, despite the fact that iOS 4.3 doesn't launch publicly until March 11th.
What's new in iTunes 10.2
- Sync with your iPhone, iPad, or iPod touch with iOS 4.3.
- Improved Home Sharing. Browse and play from your iTunes libraries with Home Sharing on any iPhone, iPad, or iPod touch with iOS 4.3.
For information on the security content of this update, please visit: support.apple.com/kb/HT1222
The new iTunes 10.2 update is available via Software Update or from Apple's iTunes download page.