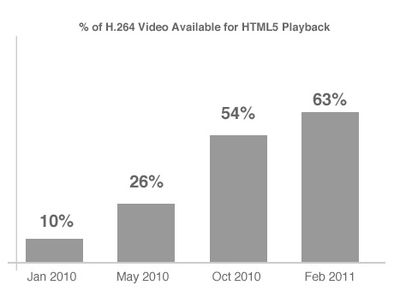 Last October, we
cited data
from media search site MeFeedia showing that 54% of H.264-encoded video from its large stable of partners was available in HTML5 format, demonstrating rapid adoption of the standard. MeFeedia today
provides an update
showing that that number is now up to 63%.
- Over the last 12 months we have seen a rise from 10% to 63% of web videos becoming HTML5 compatible.
- H.264 is still the most common format, as it is compatible for playback in Flash as well as the browser natively.
- The overall amount of video available for playback in HTML5 is growing rapidly, but growth rate as a % is slowing (to be expected).
MeFeedia notes that growing adoption of the Google-backed WebM format is fracturing the video landscape, with the obvious potential for an even more significant shift should Google deploy broader WebM support on YouTube.