54% of H.264 Web Video Now Available in HTML5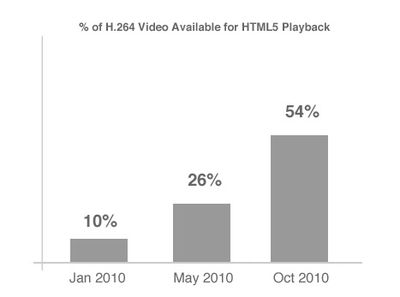 Media search site MeFeedia today
released
the results of a new survey showing that 54% of H.264-encoded video on the Internet is currently available in HTML5 format, double the share of just five months ago. The rapid increase has been driven by the explosion in the mobile industry, led in part by Apple's iPhone and its lack of support for Adobe's Flash platform.
- 54% of web video is now available for playback in HTML5. Double in 5 months.
- Flash remains the dominant player within desktop environments.
- Mobile is driving HTML5 video adoption. HTML5 compatible (H.264 mostly) video is the most common format for mobiles (inc. iPhone, iPad and Android).
- Publishers & platforms now offer iframe embeds, allowing them to switch players dynamically, depending on the access device.
MeFeedia's survey was based on its index of video content from over 33,000 publishers including media sites such as Hulu, CBS, and ABC, as well as hosting sites such as YouTube and Vimeo.