Apple Customer Survey Suggests Interest in 3G-Enabled MacBook Air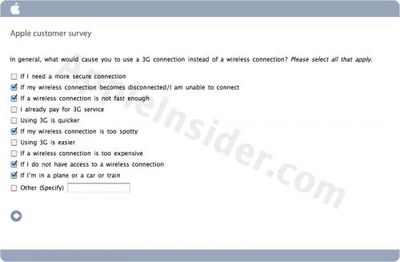 AppleInsider reports
that a customer survey from Apple gauging user satisfaction with the company's new MacBook Air contains several questions related to 3G connectivity, suggesting that Apple may be considering adding the feature as a built-in option on future models.
Perhaps most telling are a number of questions in the survey related to 3G data use and connectivity. The MacBook Air comes with integrated Wi-Fi, but does not have a built-in 3G radio.
Apple's survey asks users whether they have connected their MacBook Air to a 3G network, how often they do so, where they connect to 3G, what type of device they use to connect to a 3G network (MiFi, USB device, or tethering with a cell phone).
As long ago as the MacBook Air's introduction in January 2008, a lack of built-in 3G mobile connectivity was seen as a deal-breaker by some, although the proliferation of devices and plans for tethering and personal hotspot data services in subsequent years have tempered those objections.

Many users have continued to hope, however, that Apple builds 3G access directly into a future model of the MacBook Air in order to make it a self-contained always-connected portable machine. An
Apple job posting
in mid-2009 hinted at the possibility that the company was looking at built-in 3G for portable Macs, and a
rumor
suggesting just that surfaced just weeks later, although no such device has yet appeared.
While the MacBook Air received a significant redesign, including the addition of an 11.6-inch model, just this past October, observers are already looking forward to a rumored update to Intel's new Sandy Bridge processors as early as June of this year.