Study Suggests More Bang for Advertisers' Bucks With iAds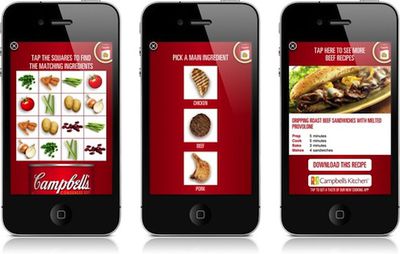 Ad Age reports
on the results of a recent survey commissioned by Apple and soup company Campbell's claiming that Apple's iAd mobile advertising program results in greater brand recognition among consumers at considerably less cost than traditional television advertising.
Those exposed to one of Campbell's iAds were more than twice as likely to recall it than those who had seen a TV ad. Indeed the five-week study, conducted by Nielsen, showed that consumers shown an iAd remembered the brand "Campbell's" five times more often than TV ad respondents and the ad messaging three times more often.
According to the survey, consumers who viewed the Campbell's iAd were four times more likely to purchase Campbell's products than consumers who viewed Campbell's television commercials.
Apple's interest in the study is obviously geared toward convincing companies to make the significant financial commitment (reported to be $1 million for the first wave of advertisers) to the iAd program. But while the initiative was a significant outlay of cash for Campbell's, it paled in comparison to the $25 million spent on traditional television advertising during a two-month period.
The study was put in place to validate mobile, a relatively new medium for the marketer. While Ms. Gordon would not share budgets for iAd, she said it was a "sizable investment" and Campbell's biggest play in mobile to date. Ms. Gordon says Campbell's is discussing further iAd campaigns and ways to optimize efforts.
By comparison, Campbell's spent $25 million on soup brands in network and cable TV in October and November, according to Kantar Media.
Data on the Campbell's iAd campaign reveal that the ad generated approximately 53 million impressions, with about 1% of users clicking through to explore the interactive content within the ad. In addition to a number of multimedia aspects, the ad also allowed customers to submit their email addresses to Campbell's to receive coupons good on the company's products.
But despite the broad reach of Apple's iOS ecosystem, television represents a significantly larger market with a broader range of demographics, meaning that television advertising will certainly remain a key component of companies' marketing efforts. But early evidence is showing that those companies willing to tap into the mobile advertising market via iAd could see significant benefits in terms of brand visibility and consumer attitudes.