No SD Card Slot in Next-Generation iPad?
A series of rumors over the past several months have suggested that the next-generation iPad could gain an SD card slot, making it easier for consumers to load photos directly onto the device without needing to resort to a dongle attached via its dock connector. Cases surfacing last week and claimed to be for the next-generation iPad suggested that the slot might make an appearance on the top left side of the device, opposite the mute switch and volume rocker.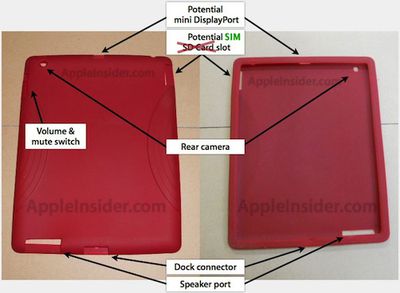 But a
new report
from
AppleInsider
claims that an SD card slot is unlikely to appear in the next-generation iPad, with the unknown case cutout actually corresponding to the 3G model's SIM card slot, which has reportedly been located from further down the left edge of the device.
In a mockup analysis of all the openings and recesses in those cases, it was speculated that that left-side opening could represent the much-rumored SD Card slot. However, a person that AppleInsider trusts on matters such as these has since rebutted that notion, stating instead that the break in the next-gen iPad enclosure at that location is actually a relocation of the tablet's SIM card slot.
That may explain why some of the other next-gen iPad casings making the rounds don't sport the same opening, as users of 3G iPads aren't likely to need ready access to the SIM slot on a daily basis. And like Gruber's sources on the subject, the same person referenced above gave no indication that there's an SD Card slot elsewhere on the device.
Apple is expected to launch the next-generation iPad sometime in the next few months.