Active Storage Prepping Replacement for Apple's Xserve?
With Apple set to discontinue the Xserve in just a few days, a number of observers noted earlier this week that Apple's shipping estimates for last-gasp orders are listed as "April". While the reason for the over two-month delay in shipping is unknown, Apple representatives have simply reported that the company is winding down manufacturing and that the "April" estimate is a worst-case scenario.
According to 9 to 5 Mac, Apple is planning to redirect customers interested in Xserve/Xsan solutions to Active Storage, a company founded by former Apple employees who left the company after it discontinued its Xserve RAID offerings in early 2008.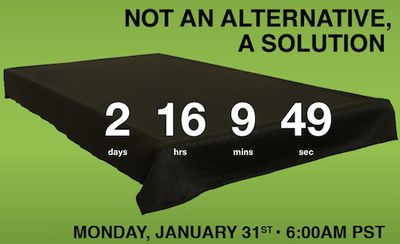 Since the time of that report, Active Storage has updated its website with a teaser for an apparently new product set to debut on January 31st just as Apple discontinues the Xserve. The teaser image appears to show a rackmountable hardware unit, seemingly in a 2U form factor, covered with a black cloth. While the company has released no other information about the forthcoming product, it does appear as though Active Storage is preparing to fill the void left by the Xserve's discontinuation, quite possibly with Apple's blessing and assistance.