XBMC Media Center for Apple TV, iPad and iPhone 4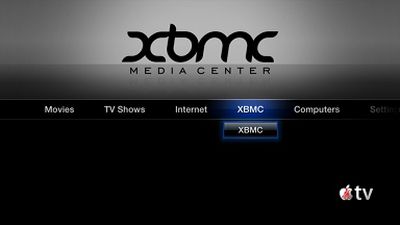 XBMC Media Center
has released a version of their software that will run on the iPad, iPhone 4 and new Apple TV. XMBC is a free media player that began life on the Xbox but has since grown to be a multi-platform solution.
XBMC Media Center (formerly Xbox Media Center) is a free and open source cross-platform media player and home entertainment system software with a 10-foot user interface designed for the living-room TV. Its graphical user interface allows the user to easily manage video, photos, podcasts, and music from a computer, optical disc, local network, and the internet using a remote control.
The software is not available through the App Store, and requires a jailbroken Apple TV or iOS device.
While jailbreaking has been a known way to load third party apps onto the iPad and iPhone, it's not been a very common procedure for the Apple TV. Due to similarities of the underlying iOS firmware on the new Apple TV, it's been widely expected that these unauthorized apps would become available for the device. Apple presently offers no authorized way to install apps on the Apple TV.
TUAW posts video showing it running on the Apple TV (as well as iPad and iPhone 4):