Apple Boosts Market Share in Slumping U.S. PC Market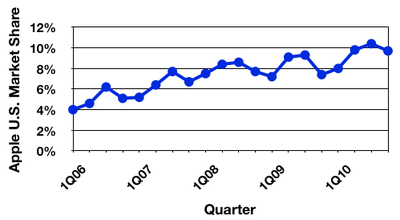 Apple's U.S. Market Share Trend: 1Q06-4Q10 (Gartner)
Research firms Gartner and IDC yesterday released their preliminary quarterly personal computer shipment data, offering up a picture of market performance during the fourth quarter of 2010 and for the year. Overall, the PC industry exhibited small growth on a worldwide scale, with unit shipments growing by about 3% between the fourth quarters of 2009 and 2010. But shipments in the U.S. actually declined year-over-year by about 5-6% according to the two firms. IDC in particular points to the iPad as having a detrimental effect on PC sales.
Growth steadily slowed throughout 2010 as weakening demand and competition from the Apple iPad constrained PC shipments. In addition to relatively high market penetration and a 'good-enough' computing experience with existing PCs, consumers are being more cautious with their purchases and competing devices have been vying for consumer dollars. This situation is likely to persist in 2011, if not worsen, as a wave of Media Tablets could put a dent in the traditional PC market," said David Daoud, research director, US Quaterly PC Tracker and Personal Computing.
According to Gartner's report, Apple matched its fifth place in the U.S. market from a year ago in grabbing a 9.7% share, up significantly from a 7.4% share in the prior-year quarter. The number is down slightly, however, from a 10.4% share in the previous quarter, although Apple typically sees a decline in market share in the fourth quarter of each year as it comes off of the strength of its third quarters buoyed by educational sales.


Gartner's Preliminary U.S. PC Vendor Unit Shipment Estimates for 4Q10 (Thousands of Units)
Apple's U.S. unit growth for the quarter was 23.7% year-over-year, well ahead of the overall U.S. industry trend of a 6.6% decline.
IDC's report paints a slightly different picture, but still shows Apple gaining market share in the U.S. as it experienced significant growth in a declining market. According to IDC, Apple's U.S. shipments grew 15.2% year-over-year for the fourth quarter, bucking the trend of the overall industry's 4.8% decline and allowing Apple to move from 7.2% market share in the fourth quarter of 2009 to 8.7% in the fourth quarter of 2010.
For the year, IDC's numbers show Apple being edged out by Toshiba for the fourth position in the U.S. market, with both companies claiming 8.8% market share and Apple shipping over 6.5 million computers. That share number was up significantly from 7.8% for calendar year 2009, and came on 18.4% unit growth. As usual, neither Gartner nor IDC covered Apple's worldwide performance for the fourth quarter or the full year, as the company does not rank in the top five by global shipments.